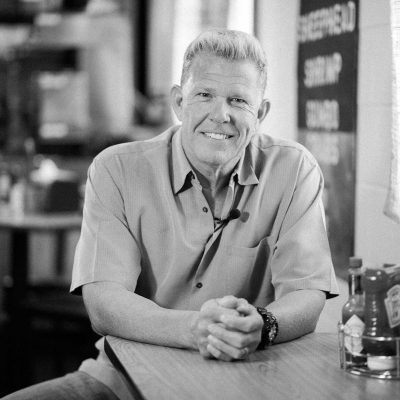 So, my career, you know, is playing music, and I play just about every Catholic church fair in the Greater New Orleans area for the last 37 years with The Topcats. I felt, for all the evil things I did in my life, my scale was balancing out because I was doing things for the church. So it's like, Oh, you know, that was a bad choice in my life, but it's going to outweigh because this is going to scale. And then, so I was living this blessed vending machine God, right? You put the money in, then give me what I want when I ask for it. 
I turned 54, I went through a horrible divorce and my life was just spiraling; alcohol, divorce. And I started going to college just to try to find something positive. So I started going to Delgado.
I remember a mailman, Cliff, I would always meet him at the mailbox every day: "Hey Cliff, how are you doing?"  "Oh, I'm taking the class in Psychology and Socrates, 'I think therefore I am' and things like that." And he goes, "Really, you might want this," and he handed me a card, invited me to an Alpha Program at Lakeview Christian Center. 
I said, well this is kind of like perfect because I'm taking this course exactly right now, that's the proof if God exists. This sounds like it could tie in and help me out. So I'll go do this course. And in a matter of the fourth week, you know, it hit me like a ton of bricks. I learned that no matter how many good things I did in my life, I would never measure up that I needed a savior. So it was Jesus. And we took the break at the class and my life just completely was transformed at that moment. And for the first time that night, when I got home, I felt like I wasn't alone, so, because Jesus was with me. 
And in my past, you know, as a musician, I always wanted to, you know, I'm looking for the large crowds to feed my ego because they've all come to see me. Right? Rob Schulte, Top Cats, playing drums and singing. And that's what totally changed my life, is when I came to Christ, that I don't need that anymore, that feeling of acceptance from a large crowd, you know, because actually, my acceptance comes from The Large Crowd, Jesus Christ himself.
So although it's great to see people enjoy music and come together as my whole perspective has changed as I came to Christ. I just want to tell everyone else because it's the answer and it's so simple. It's a gift, God, hands out of his hands, but you have to take it. 
At the age of 54, you know my life completely Changed and I fall short every day, no doubt, but I know that I have the power and with Christ that I can make it through things and that's available for you too, for anyone. 
I'm Rob Schulte, He Changed My Life.